The midterms are less than two months away and get out the vote efforts are gearing up fast. New Pennsylvania Project is a year-old voting rights organization modeled after the successful New Georgia Project founded by Stacey Abrams in 2014. The group's mission is to ensure that the diverse demographics of Pennsylvania are aligned with the Commonwealth's electorate.
"We have a primary purpose of voter registration and we center communities of color, we center the youth, and we center immigrant communities in our work," said Kadida Kenner, CEO of New Pennsylvania Project.
A year ago, the West Chester native was the organization's only employee. They have since staffed up, adding 22 professionals on the payroll. Kenner says they are hiring because their goal is to have a presence throughout Pennsylvania with a focus on 12 of the Commonwealth's 67 counties.
"There are 1.7 million people across this entire Commonwealth that need to be engaged and brought back into the electorate," said Kenner, "[we are hearing] they just don't believe that their vote is really counting for anything or they're not in love with either political major party, and feel that their needs are not being met."
According to the 2020 U.S. census, 25 percent of Pennsylvanians are people of color. Kenner says there's a portion of that diverse demographic that is over 18, yet is not registered to vote.
"Twenty percent of Black [Pennsylvanians] who are eligible to vote are not registered — 31 percent of all Latinos eligible to vote, (are) not registered and 42 percent of the Asian Pacific Islander community eligible to vote and not registered," said Kenner. "There's a big disparity among folks of color and we need to come out in record numbers and make our voices heard at the polls."
Kenner — a graduate of Temple University — began her career working in sports television programming.  She spent several years in North Carolina producing the football and basketball games from historically Black colleges for TV. The job ended when a transgender bathroom ban went into effect in that state.  That's when Kenner's work in politics began.
"I received a phone call from a political campaign and asked me if I wanted to volunteer — I told them I needed a job," she said, "and when the results of that 2016 campaign didn't work out the way many of us thought. I figured I couldn't go back to sports television — I wanted to get out and help defend democracy back home in Pennsylvania."
And that Kenner says is her charge. To hit the streets, knock on doors, and get voters engaged. She believes a fully engaged, diverse electorate will change the conversation in Pennsylvania and force the Republican controlled legislature to listen and take action on issues like the minimum wage that have long stalled in the General Assembly.
"We've been stuck at a $7.25 minimum wage for more than 13 years," said Kenner. "It has not legislatively moved in Pennsylvania in more than a decade."
Kenner believes issues like education funding and abortion would be addressed in a way that helps Black and brown Pennsylvanians if more get involved. She says the mission of New Pennsylvania Project is to convince communities left out of the political conversation to join in.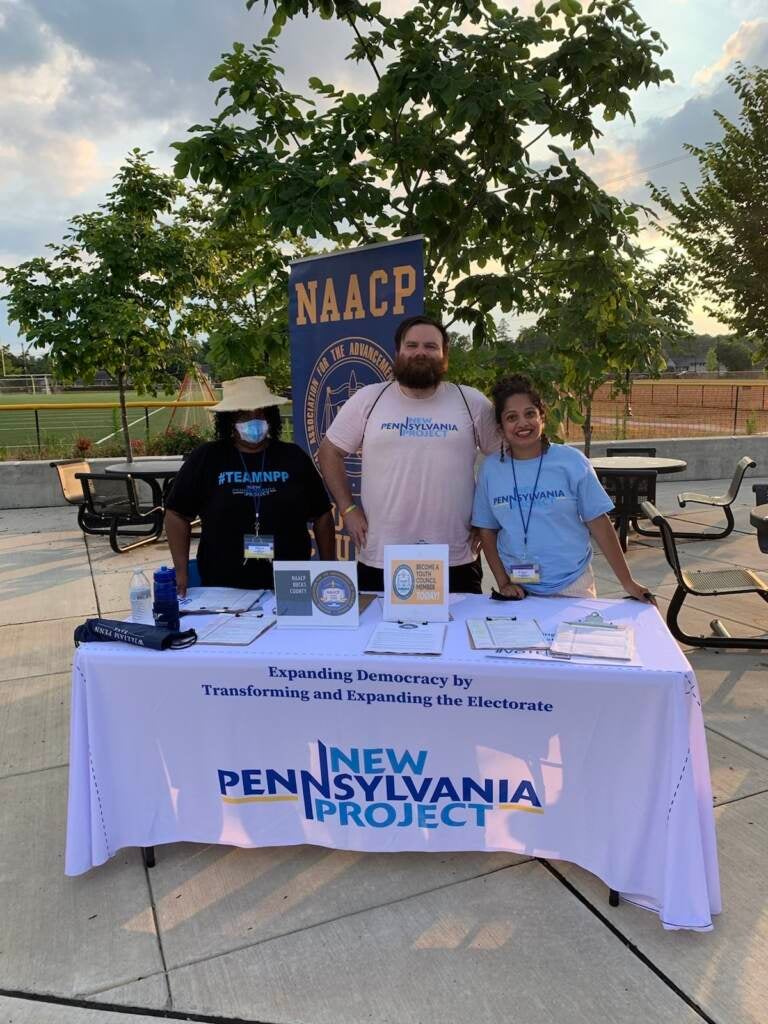 "We must come out in record numbers as young folks and communities of color did in 2020," she said "It is the young communities and communities of color that changed the way the 2020 election looked and the final result that we know to be accurate."
But the work, Kenner said, is going to take time. She noted that the New Georgia Project took years to make the change in the peach state.
"That organization was founded back in 2014, and we didn't hear about them or see the success that came out of the new Georgia Project until the 2020 election," said Kenner. "So this is going to take time."
In the meantime, Kenner says they are hiring — and offering full benefits to new employees. But the team has a lot of work to do.
"We are going to meet people where they are and getting them registered to vote by talking about the issues that matter in their lives," said Kenner.
More on the New Pennsylvania Project can be found at its website.